This is a guest blog post from a friend and colleague CJ Wagner with Misfit Strength.  In this piece he reviews his experience with running a burpee free Ultra Trifecta Weekend in Hawaii: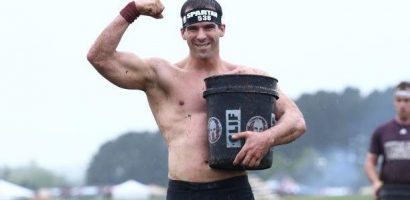 August 4th 2017, I'm sitting in the San Francisco airport, eating my first pizza of the day; my final destination Hawaii. I'm not going to Hawaii to rest and relax, like so many others; no, I'm going to Hawaii to run over 40 miles through the jungles, and valley of the Kualoa Ranch on the island of Oahu. A Valley in the northeast corner of Oahu, where the Native Hawaiians of Oahu would train their warriors. This is a valley where famous films are filmed, such as Jurassic Park, and shows like Lost, and this weekend a handful of us crazies who call ourselves Spartans will battle.
I board my plane ready to take off and get another pizza onboard. Hours later and a few movies watched. Our plane lands and we head out to The Kualoa Ranch, to pick up my race packet. It was a breathtaking view, the sun is setting behind the mountain, as it casts a shadow along the valley. My wife and I take some picture and I soak in the beauty of the area, the tall mountains on the side, the grass, bushes, and trees. I've never seen anything like it, I don't even know how to explain it in words. As I leave to head back to my hotel, I know the next time I can see this I will thinking of only one thing… "FINISH!"
August 5th 2017, its 3:30: am my alarm goes off;  but I'm awake. Hawaii's time difference helped me to wake up before my alarm, I have no issue waking up. I drink my coffee, eat my cereal, and double check my drop bin, which I prepared the night before. My bin is a bucket full of motivational quotes my friends have written on to help me, and inside are my supplies that I will be using and it consists of
-A 2nd Camel back full of water, with 4 cliff shot blocks, banana, nature valley bar, and 3 1oz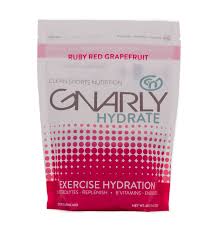 packets of Justin's almond butter
-Headlamp, 2 glow sticks
-sunscreen
-Protein Shaker bottle
-Extra pair of injini toe socks
-Extra almond almond butter packets, and cliff bar shots
-Gnarly Rehydrate, and Protein
-3 Bananas
5am: I arrive at the festival, 1 hour prior to my 6am start time. First thing I do I head over to the transition tent and drop my bucket off. I take my extra clothes to the bag drop and now I stretch and warm up. For 45 minutes I stretch out, and think to myself "What the hell am I doing here?" I am not a runner, yet I'm about to go out and run over 26 miles, this is more than a marathon. I am by nature a complete meathead, I never would of thought I would want to be doing races let alone OCR. And now I sit here minutes away from this Ultra Beast.
As I am stretching I see a tall guy completed painted up; Stephen the Painted Warrior. After reading his blog about his previous Ultra Beast in Hawaii I wanted to it also. But I also wanted to make it more interesting and do the Super and Sprint the next day. I don't go over and say "Hi" he looked busy and I was getting into my zone.
5:45: An Announcer comes over the speakers "All Elite Spartan Racers running the Ultra Beast make your way into the corral." I make my way in over the little wall all Racers must get in before the race even starts; the sun is starting to shine into the valley. Andrew the Course director speaks to us telling us the rules, cutoff times as in order to not get a dnf (Do Not Finish). I'm not paying attention, I'm still stretching.
6am: there is no turning back now we scream "AROO" and take off into the Valley. The first miles is your typical Spartan Race obstacles to get ready for the rest, jump a hurdle and wade through a stream and climb a 4 foot wall. Now things start to get interesting. We veer off the gravel path and up a hill that seems to have no true path, this is always fun having to use trees to pull yourself up and holding on to them, as to not fall so fast, on the downhill, that you will not twist your knees or ankles. Out of the trees and more walls to climb over, they are getting higher as we go, and the atlas carry. Now for the bucket brigade, simple concept fill your bucket to a certain point and carry it, I always excel at this obstacle it plays into my strengths lifting heavy things.
We go for about another 2 miles over the hills in valley through the monkey bars, over the vertical cargo, surrounded by cow shit, and down a gravel road. I come to the water station, even though I have a camelback I stop for a quick drink. I do this to prevent cramps and injury.
I continue on, there it is, the turn that take us off the Super's path and unto the Beast course. I remember reading about this from Stephen's blog "The Painted Warrior" I know what to expect a steep climb. I use my upper body strength to help pull myself up, grabbing onto trees, rocks, and rope that has been placed out. This method works for me because of my upper body strength. During my training it was not uncommon for me to complete around 100-300 pull ups weekly. Now for the downhill, so steep and slippery its best to go backwards at some points and use the rope laid out.
When finally at the bottom, the memorization using your bib number to coincide with a word and set of numbers, "Alpha 39-3474." Quick farmers carry, and were back off a quick stroll through another never ending stream, and 3 obstacles clumped together. Traverse, Tire carry; again something easily completed cause of my lifting background, and the log carry. A few miles later some more streams, and climbing, a low crawl through the mud and we are at my first roadblock of the day.
The Z-Wall my first year doing Spartan Races I could not complete this obstacle, and since then have only completed it twice. I have not done a single penalty burpee, and I'll be damned if I do now, first I glance at all walls and try to find the one with the least amount of mud. I find my wall and begin. I come to my first turn, I reach for the block and I grab it; "always keep 3 points of contact," I raise my right foot around the 90 degree turn and " Fucking shit" my left foot is off the block along with my right. I'm hanging on by fingertips. A quick breath and I find the step with my right foot, then the left and I'm around the first turn. I make it all the way into the wedge and easily complete it with a few blocks away I risk and jump, the bell rings, and I'm good to go.
For the next few miles I keep a good pace "Walk where I must; run where I can." After a a muddy descent down a path and over an 8 foot wall; I'm off the beast course and onto the Super. Here's the guy with clip board before he can even ask "Alpha 39-3474" don't even have to slow down he gives me the thumbs up and gives me a high five.
"Whoever in human history developed the high five is a genius. I mean slapping hands together, Yeah"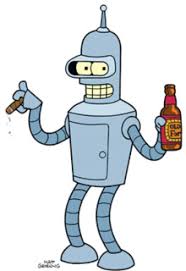 Yeah when completing a run this long random, crazy thoughts go through your head to keep you sane. For anyone who has watched Futurama "It's Bending time" and if you haven't, a good show to watch on the stair master. The Bender Obstacle, jump up pull up  over a few bars that create a curve, and gracefully fall off. Now for a hill that will forever be burned into my mind, the first time not to bad but by the third time the next day…We'll come back to this thought later. Continuing on for another mile and Spartan's new favorite burpee maker, The Twister. But first, whoever decided to place it next to all the skeleton bones, you are evil and I like it. I stick to the technique I know staying to one side instead of backwards, ring the bell and go on.
I'm feeling pretty good at this point going hard but also conserving energy for my second lap. Climb over the Stairway to Sparta; crawl and spin under the barb wire, hoist up a heavy bag no big deal. The sun is out and this is the longest sandbag carry I've ever done, and is that Godzilla's footprint?
"Yes it is."
Now time to grab the sandbag and its 60 pounds. Just keep moving, just as in the bucket brigade, it is harder to stop and set it down because you got to pick right back up. So embrace the suck and get it over with. After a crack in the back and a sled pull, it's time to throw the spear. Here it is Spartan's famous spear throw, 1 attempt make it, move one, miss it and do 30 burpees.
I grab my spear pull it over throw it in the ground, make sure all the rope is over the rail, and not knotted or twisted. I grab my spear balance it in my hand, point my left foot towards my target take a deep breath and relax. I stare at my target, bring my arm back take a big deep breath in as my shoulder starts to propel my arm forward I start breathing out, the spear is out of my and heading towards my target. I don't want to look…"Oh it stuck." I'm out of here!
I take off to "A" frame cargo net at the top, another Ultra Beaster is at the top with cramps in his legs. I reach into my bag and give him some of my cliff shot blocks. I always try to carry a few extra because I remember my first ever beast; My quads cramped up with 2 miles left and I had no water, someone else running behind noticed I was cramping and offered me water and electrolytes, and I was so thankful for it.
Only a few more Obstacles, Olympus, go over the bridge, crush the multi rig, climb the rope "must resist urge to kick the bell" and climb the last wall. Now off to the transition tent.
11:00: I'm halfway done and 3 hours ahead of the first time hack! I drop my camelback, sit down with my legs straight out to stretch them out. I pull my other camelback out with everything in it ready to go, I eat a packet of Justin's almond butter, and a banana. I pour the rest of my water from my first camelback into my shaker, and put some gnarly re-hydrate in and drink up. I am in the tent for no more than 5 minutes. I wrap my Ultra Beast penny around my bag so its visible, and put it on. Its 11:05 I'm on way out of the tent.
This is key for anyone wanting to run an Ultra Beast your transition must be fast, do not hang out, If you want to change your socks go for it but they will get wet again; so is it worth it? Do not eat too much; your muscles will cramp up because the blood in your body will try aid in the digestive process and not bring enough oxygen and glycogen to your muscles, or you will throw up. This is now the part of the race where your mind will either win it for you or cause you to DNF.
Mental toughness cannot be learned, just because someone is book smart, graduated top of their class does not make them mentally tough. Mental toughness is your mind's ability to overcome things greater than yourself. Will your mind allow you to overcome or will it let you succumb?
2 miles into the 2nd lap I had to power walk most of those 2 miles; through the stream again and the shade of the trees; to allow some digestion to happen. Now I'm out in the Valley again, I complete O-U-T, and continue on, and that sun is beating down. It is midday and the sun is at the highest point of the day. I make my way to the bucket brigade, I fill my bucket up, and there are 2 spots along the route that provide shade. I quick stop and rest the bucket on my leg in a lunge position and drink water from my camelback. I still have to do this 2 more times before the weekend is over.
Here is my first mental barrier, this bucket is heavy I can set it down or I can embrace this suck and continue along. If there is one quote to get me through tough physical ventures it is…
"Don't quit. Suffer now and live the rest of your life as a champion" –Muhammad Ali
"Man I would not want to get punched by that guy." And now, I'm emptying my bucket back into the gravel pile, Bucket Brigade complete for the day. I take off back into the valley, go down the field make a few turns go up a few hills. Now my quads are feeling it, "deep burning" every step up on elevated surface is now beginning to burn. Coming back up to the monkey bars I can give my legs a little rest. Despite my 205lb frame, I always excel at these hanging obstacles. I make my through the monkey bars again, jump over the vertical cargo. That cowshit smell is strong when its hot and humid. Now I'm heading down the gravel road, the sun is starting to hide behind some clouds, "Why couldn't it do that while I was out in the valley with no shade."
Here it is the turn into the beast, tree coverage all around, and a steep ascent. The ground is becoming muddier with more people going through.
Mental Obstacle: My quads are on fire each step is burning. I can sit down and wait it out, or I can keep going. I'm seeing people who are doing the beast struggling, with a few of us Ultra Beasters around, we are reminiscing of our first lap and how it wasn't slippery or that muddy. With each step I take I look for clues to remind myself how much longer this ascent is, and with each step my quads burn. I'm seeing people sitting and resting. I stop take a knee, take sip of water from my camelback, eat a few shot blocks and stretch. The position I am in on one knee at a time helps stretch my hips and quads out. I'm in the position for only 30 seconds, not long at all, I must keep moving. The ropes that we were laid out to be used to help climb up the steeper sections are now caked in mud. Instead of grabbing onto them it is better to crawl up on our hands and knees. I make it to the top, the cloud coverage, and high elevation has made the air feel cool, this is relieving, it has been hot and humid all day to this point. Not as bad as the temperatures I endeared training in Houston Texas, but I am Pennsylvanian by heart and sometimes think I will never get used to heat.
I make the decent down blow past the memory chart as I can still remember it "Alpha 39-3474." Here it is I can barely run anymore I am now at a fast almost like power walk. I come to the stream that seems to never end, which seems longer this time around. Not being able to see where your feet are landing it a total mindfuck. I go over a little stream and on my first lap I jumped to the right onto the rocks. But  there are a group of people waiting for stragglers that got left behind. So I jump into the water, quick side note I'm 6'2", the water is up to my chin. I go to get out and bang my leg on a rock as I'm getting out. "It's not a Spartan Race without banging my leg on a rock or log." As I go along after my quick ice bath, I see a vine hanging down and…if anyone reading this truly knows me you know what is about happen. Yes, I grabbed and took a swing. Like Tarzan.
Now I'm out of the stream going through more jungle. I make it to the traverse, carry the tire again, and onto the log carry…Quad cramp! At the worst possible point the top of the hill during the log carry my quad is cramping. I slowly make it back down sipping on my water, and then eat a few shot blocks, stretch it out and we are good.
"I can take it easy from here on out. I passed a major checkpoint, take it easy"
"No, I can't." That voice trying to sabotage me, I must ignore it. I spent weeks listening to it in preparation sometimes screaming at me other times a soft whisper. But here I know it will only get louder as I continue.
After a good power walk/jog through the jungle I make it back to the Z-wall. I find the least muddy wall again. As I begin I make way around the first corner, and come into the wedge, I step onto my next peg and cannot get my foot to stay. Its too muddy. I look at the bell and position myself to jump for it. I bend my knees and spring forward. "Ring. thud!". All I hear is myself falling to the ground not knowing if that was my bell that rang or another one. I sit up, and the volunteer working the Z wall comes over to check on me. I tell him I'm ok, I only see 3 stars. Before I can even ask to make sure if I hit the bell he confirms that it was my bell that rang. So I grab some water before I head out. Still no burpee penalties!
As I continue along, I run into someone I know Jay Dolong. A friend I made before the start of the race, we follow each other on Instagram and have finally met. He has completed a few Ultra's and he is good to have company along the way. We help each other get some electrolytes out of each others camelbacks. Climb over the 8 foot wall. I start to see how truly tired I am, I had to do a second attempt to muscle up over the wall. We continue on and get to know each other some more he takes off in front of me going down through the jungle. I don't want to go flying down this track and lose it and go tumbling down. I try throughout the whole course to be smart about my pace and how I approach my obstacles.
Out of the Beast Course and onto the main gravel road, I get a time check at the water station; the time hack, I don't want to be anywhere near that cut off. I'm not. I continue onto my power walk/jog. The guy with the clipboard and the memory test, I don't even have to start saying anything Ultra Beast only has to recite it on the first lap. Onto the bender now, I do it the same as before, muscle up and done. Graceful dismount and I'm off.
I start my way up the hill.
Here it is. There is a part of the race where your body is weak every step you take, cause of the mud and water obstacles, your shoes feel like cinderblocks. The Ultra Beast is living up to its name. You have pushed your limits and now you must push it further. Your mind will tell you to quit. Your body is capable of pushing itself and knowing when to stop. Your mind will tell you to quit because the soreness you feel is pain, and naturally your mind will tell your body to stop. This is where you must listen to your body not your mind; remember "You will pass out long before you die."
My mind is telling me to quit. My quads are on fire, they are sore, my hip flexors hurt with every running stride I take, my toes are numb from all the rocks they have stubbed, and my calves are the most tired that I can remember. My mind is telling to stop, thoughts of not being able to finish are going through my mind now. This is part of the race, all muscles are being used in the race, your energy is being depleted, and you cant replenish as much as you would like to because you need to keep moving and food may also seem disgusting.
Now; back to my slow march up the hill, every step a burns in my quads, a sting in my hip flexors, and my feet are like cement. I have to brace myself and push my hands on my knees to bring myself up. When I reach the top I look out into the valley to see the sun heading behind the northwestern mountain. I continue on to the twister. "skip it do the 30 burpees." I complete the twister no problem, still 100%. "I must complete all the obstacles I will not accept 30 burpees" I know now the end is near I'm still at a power walk, passing people, keeping one foot in front of the other.
Back to the barb wire crawl, I spin the whole way change directions every 20 spins as to not get too dizzy. It doesn't help, I complete the Hercules Hoist as the bag is spinning the way up and the whole way back down. I grab my 60lbs sand bag and start walking, "How did I not notice that I am in Godzilla's footprint in the first lap through part of this track. No issue on the sled again. Now its onto the spear throw.
I grab my spear, stick it into the ground, bring all the rope over, and wait a about what seemed like 5 minutes to help bring my heart rate down. I grab my spear and go through the exact same steps as in my first lap, bring my arm back, start with my shoulder bringing my arm forward, release, and watch…
The spear flies towards it target it starts turn down, it hits the bottom of the hay, and it sticks!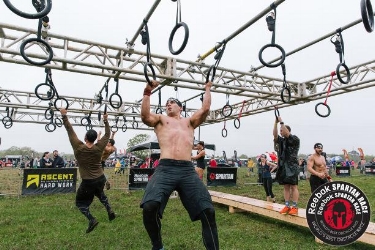 I'm off over the A Frame, across Olympus, up the stairs and onto the rings. I grab my first ring, and begin I'm going on, the last ring is hanging lower than all the others, so I grab it my right hand and reach forward with my left. I misjudge the height difference and miss the bell, but I'm still holding onto my ring. I reach forward again for the bell, but I can't reach, despite my long arms. I am able to grab the ring behind me, I get some force behind me and I get enough to hit the bell. "Close call there, I see that finish line, "Come Hell or high-water now." Up the rope, over the wall, and skip and hop over the fire I am complete.
10:53 my time, 32 overall in the Elite heat, and 100% completion of all obstacles. I collect my medal and I start heading over to the transition area to get some food and sit down. I am able to talk to The Painted Warrior Stephen Senik, he tells me his story about how he got shaved ice and broke the rules, and self dqued himself. Im glad to be able to call him friend now. Anyone who ever gets a chance to talk to him he is a great man very selfless and full of honor.
I head over to the transition tent sit down for the first time since 5am. I just stare at my medal and the mountains taking it all in, all the work and sacrifice I did to get here and this part is done. I am successful. I talk to others who have finished and we tell each other stories from the day. I leave and head back to the hotel to ice my muscles, to get ready for my Super and Sprint the next day.
WE AIN'T DONE YET!
I head back to the hotel all I can eat is a some pizza, a beer, and more water than I care to even look at. I ice my legs throughout the evening. This is tp help in my recovery process and get ready for the next day. I stretch out as much as I can. I try to eat some more.
4am wake up call. My muscles haven't got that message. I wake up and my legs are sore my back is killing me, and that bed is looking very comfortable. My leg muscles feel like I was hit by a train, my lats and back of my shoulders feel like they are going to let go of my arms, and they will fall off.
I head back at out the Kualoa Ranch. The whole ride I'm thinking back on all trainings I did when I was sore; how I mentally pushed through those barriers. The shorter runs days after long runs. Music was always helpful, but today I have none, except for the Calvin Harris Song Feels that gets stuck in my head. I think to myself I cannot return home without the complete Ultra trifecta in hand. I trained too hard, sacrificed too much, hell I bleed to be here and battled through injury, there is no returning home without it.
I arrive to festival area, register and begin stretching some more. My right hamstring is not feeling right, something isn't quite right. All I can do is stretch it out and go for quick jog around the festival. So, I take a quick jog. 10 minutes to start time, I make my way over to the starting line, hop over the wall and as always, "Ouch" I go towards the center of the coral. The gun goes off and we are off. My run is a fast jog. We make our to the water obstacle I keep a decent pace, and we go up the first hill. I start seeing some separation from the group I'm dropping behind. I blast through O-U-T. 2 walls are next 4 foot no problem 7 foot, I muscle it up and swing my leg over and instant sharp pain in my right hamstring. I jump down, take a few steps, I've felt this pain before, its a cramp or a pull. I stretch it out take a few steps still tight but I've had much worse so, I stretch it some more and head over to atlas carry.
After completing the 5 burpees as part of the obstacle for Atlas Carry, I carry the stone back over, set it down. Now this all mental, I later find out that what I thought was cramp was in fact a pulled muscle in my hamstring. All I can do is a light jog, this is the first time I struggle with the bucket brigade, I refuse to set the bucket down, I take a knee in the shade to regain my composure, reset my mind and drink some water from my hydration backpack. My mind is racing with negative thoughts, mainly this what I think is a cramp, that's ok take it easy. I jog/walk to the monkey bars, take my time to let my leg rest. I head up the path that I have gone on 3 times before. Over the cargo net, which has no more hay, but seems to have more cows around than yesterday. I make my way up around the bend in the back of the valley. I laugh when I see the entrance to the Beast portion of the race, "not today!"
After I complete Bender one last time, climbing up over curved bars and jumping back down puts me in a good amount of pain. I cannot run up this mountain I give it everything I got and all I got are long strides and using my upper body to push off my legs to continue on up that hill. Every step I keep thinking to myself, If ancient Hawaiians could scale up these steep hills so can I.
"I am unstoppable, I will not break."
"Your broken"
These are thoughts going through my mind all the way to the twister. I take a second take a deep breath and begin. I make it to past the first twist and I barely grab on to the next, using only momentum I continue and on and complete it. Still 100% completion of obstacles.
I can jog around the ranch still. I let momentum and adrenaline carry me through the barbwire crawl, Hercules hoists no problem. The sandbag carry is rough but very doable, and no issue on the sled pull. Ultra-Endurance events that lasts a few days are a different kind of monster. It's your mind that gets you through and motivation that pushes your body to do things you didn't think you could.
But now I come up to spear throw. I pick my target and slowly prepare myself, control my heart rate bring down by staying calm and taking slow deep breaths. I bring my arm back and take a deep breath, as I bring my arm forward I exhale and release my spear. Stick it and I'm off. I breeze through the last of obstacles, over the net, traverse Olympus, climb the rope, conquer the multi rig and get a nice fire jump pose to finish off the Super.
I take the next hour between my Super and Sprint to stretch out, all I can eat is a banana and a spoonful of almond butter. I haven't had a true meal since Friday night. All I think about is some nice fried coconut shrimp, a pina colada, and laying out on North Shore. I talk to others who had completed the Ultra Beast or attempted it the day before. The ones who DNF'd were in a good amount of pain and, still attempting The Super and Sprint. The last Super wave takes off. I walk around the festival area, trying to loosen up my joints.
My right leg is not feeling this. "Fuck it!" I made it this far, I know my limitations, if I have to walk on this last race so be it. I didn't come this far to quite or do something stupid. I make my way into the corral one last time. The Sprint the shortest race a little over 4 miles. I begin with the jog and it quickly turns into a fast walk.
I make my way over the walls, I rely on the strength of my upper body to pull myself over. All I can concentrate on at this point is breathing and keeping myself hydrated. Each obstacle the last time ill see it is an accomplishment. The Bucket Brigade, the race director Andrew is up there sending people back up who don't have their bucket completely filled. No worries on my end I always fill it past the point, I slowly make my way through the obstacle. I don't drop it, I take a knee in the shade and rest the bucket on my leg. I As I finish I cut across the valley, the Sprint cuts out everything from the monkey bars to the stairway to Sparta. I cut across a grove of trees. At this point I have so much adrenaline pumping through me I am at a full run. I come to the barbwire crawl. Finally the last time I have to get dizzy going through this obstacle. This was the most dizzy I have become after this particular obstacle. So as I complete the Hercules hoist I swear I'm pulling up 2 bags; at least thats what it looked like.
Now for the sandbag carry. I can only think of walking and not running into the other racers around me. I am now running on empty. I am having trouble moving forward and pulling the sled. I still make it look easy I pick a sled between 2 racers who are competing their Super and am taking off before they're finished. I think to myself breath deep, spear throw is next.
I approach it as every time before, calm, cool, and relaxed. This throw is different its my last one, I have 100% completion on all obstacles up to this point. There are people screaming all around me for their friends who are making it and ones who are missing it. All I see is my target, not the mountain behind it, or all the trees around me. Its just me and my target. I block everything out. I pull my spear back and release. Like watching it slow motion the spear starts to drop a get a bad feeling and then it straightens out at the last second and catches the lower portion of the target. I got it!
This is it I take off! Im at a full sprint now. Over the net one more time. Traverse the last Olympus, ring the bell on my last rope climb and multi rig. Completed with no problem. Now I  give the biggest smile I can for my fire photo finish. Im finished!
AFTER Thoughts.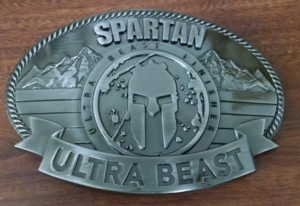 I'm at North Shore I just ate my coconut shrimp. I experienced toe spasms and cramps. Everything is weak. I enjoy my time in paradise, after I have done something not many others before have done. I came out of this race with a pulled hamstring, broken toe, and 3 pieces of medal that say I finished. To anyone who would want to attempt this know these things
Mentally be prepared to endure hours of hardship that is hard to duplicate
You are battling the elements, be smart dress appropriately
You will want to quit
Push yourself beyond your limits and create new boundaries during your training
You will hallucinate (I swear I saw Jesus a few times, Gumby, and Boba Fett)
Calories are your friend and your enemy
Whether you run, walk, crawl or roll, keep moving forward
Know your friends and family are cheering you on even though you can't see them
You will pass out before you die, don't worry a medic will get to you before you die
Nothing beats an ice cold beer at the end of that finish line